1. Check Your Goals
When it comes to maximizing your fat loss, having clearly defined goals is key. There's a reason specific CrossFit WODs (workouts of the day) are posted before training starts; they instantly give you a sense of purpose.
"Setting goals will keep you motivated," Hannah says. The key? Make your goals realistic and attainable. If you set a goal that is out of reach from the start, it's only a matter of time before you grow discouraged. It's human nature.
Before you even begin your journey, take some time to write down 4-5 specific goals you hope to achieve. They should concern "show" and "go"—your body composition and your fitness performance. Write these goals down and place them where you'll see them daily. You want that constant reminder. "The more consistent you are, the more results you'll see," Hannah says.
2. Give Benchmark Workouts A Try
"One great idea is to learn all the CrossFit bodyweight benchmark workouts and do them regularly," Hannah says. These workouts will put you to the test while giving you a good sense of your base fitness level. "These are all primarily bodyweight workouts that focus more on cardio and less on strength," she explains.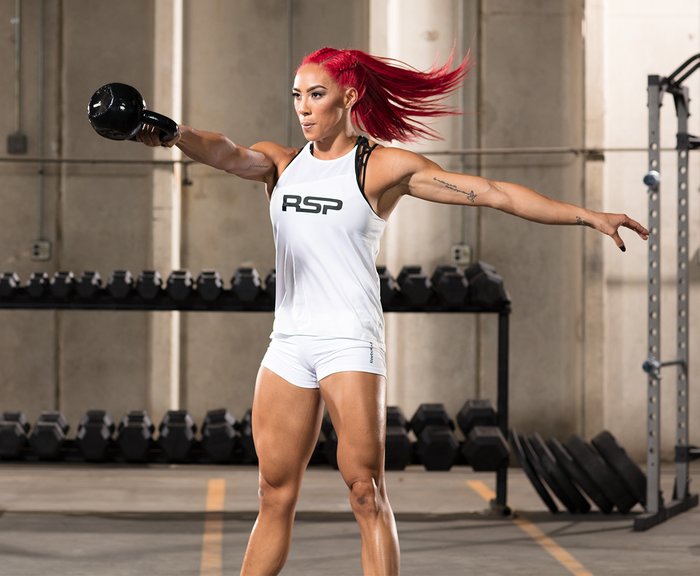 Names like "Helen," "Kelly," and "Barbara" may not sound intimating, but don't be fooled. Helen, for example, challenges you to complete three rounds of a 400-meter run, 21 kettlebell swings, and 12 pull-ups as quickly as possible.
Hannah recommends beginners start out with 2-3 CrossFit-style workouts a week. Advanced lifters can challenge themselves with 4-5 weekly workouts.
"Since many workouts are bodyweight focused, you can do them at a higher frequency," she notes. "Still, always listen to your body, and rest if you need to."